Should Belgium go its own way to protect its supply chains?
17 December 2021
The lack of progress made by the EU in adopting supply chain due diligence legislation has prompted the EU Member State to ponder its own law, writes Eli Hadzhieva, Director of the Dialogue for Europe
The Parliament, 17 December 2021
by Eli Hadzhieva / Photo credits: Alexandros Michailidis/Alamy Live News
The lack of progress made by the EU in adopting supply chain due diligence legislation has prompted the EU Member State to ponder its own law, writes Eli Hadzhieva, Director of the Dialogue for Europe.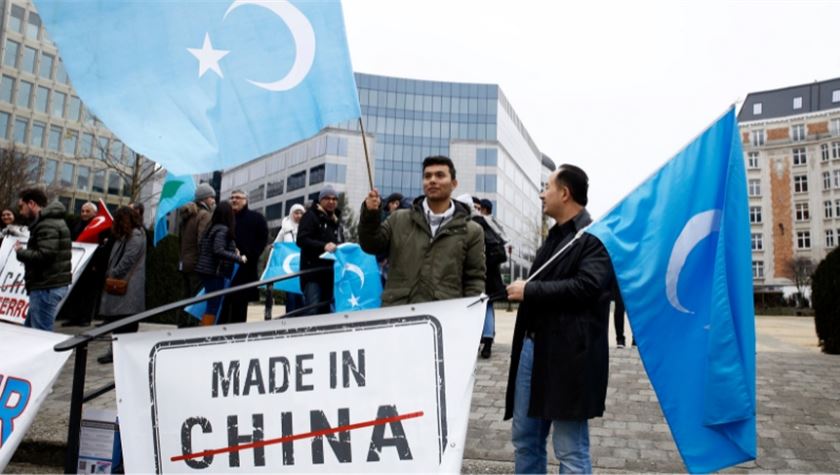 Recent scientific research shows that global brands, such as H&M, VF Corp, PVH Corp, Bestseller, Uniqlo, Patagonia, Levi's, Tesco, Ikea, Nike, Adidas, Primark, C&A, Gap, and Marks & Spencer, are at high risk of using cotton produced through forced labour in Xinjiang in their supply chains. To address this, the US, UK and Canada have begun legislative work related to mandatory human rights due diligence, supply chain transparency and responsible business conduct. Whereas there already are initiatives to address the issue of forced labour and supply chain due diligence at EU level, the slow pace of progress has led EU Member States, such as Belgium, to propose their own legislation.
A week ago, the US House of Representatives adopted the Uyghur Forced Labour Prevention Act, which bans imports produced by Uyghurs in the internment camps in Xinjiang, where more than one million Uyghurs are reportedly detained. This week, the bill was approved by the US Senate and will soon come into effect. This follows the US Withhold Release Order issued in January 2021 against imported cotton and tomatoes from Xinjiang, which obliges importers to prove to the customs authorities that such products were not made with forced labour.
The UK and Canada announced similar measures to enhance due diligence requirements for companies with links to the region to remove the use of forced labour from supply chains earlier this year. These measures include strengthening transparency obligations under the UK Modern Slavery Act and enacting the fighting against forced labour and child labour under Canada's Supply Chains Act. As the US and the UK are among the five top trade partners of Belgium, these developments will certainly have major consequences for Belgian companies, which will have to make significant changes in the ways they currently operate and ensure they comply with the new requirements.
As international human rights groups document mounting evidence of forced labour, as well as forced sterilisation, torture, surveillance and cultural if not ethnic genocide in the Xinjiang region in north-western China, sensitivities reached boiling point both in Belgium and in the EU. In addition, industry representatives in Belgium are concerned about China's policies and undertakings that lead to unfair competition. "It is not primarily the extremely low wage costs that make China a major threat to our industry in Western Europe. Instead, it is an accumulation of artificial advantages and subsidies that make China a competitor today that every industrial company has to take into account," stated the Belgian federation of the textile, wood and furniture industry - Fedustria - while showing strong opposition to the EU-China Investment Pact.
In March 2021, the European Parliament called for a new EU law that requires companies to address human rights and environmental standards within their value chains while asking for a ban on the import of products linked to severe human rights violations such as forced or child labour. In her State of the Union Address of 15 September, European Commission President Ursula von der Leyen expressed the intention of the Commission to propose a ban on products made by forced labour, underscoring that "human rights are not for sale".
A European Commission proposal on due diligence was expected to be released at the end of this year but, to the disappointment of many, the legislation was postponed for the fourth time in a row. Although the upcoming French Presidency may push this agenda forward, it is not clear if an agreement can be reached next year. The issue is further complicated by current discussions at the Commission to link the forced labour issue to the due diligence directive in one single package as some fear that this would "slow down and — likely water down — both laws".
Many civil society organisations, labour unions and European companies seem to be in favour of an EU-wide legislation as it could prevent a possible fragmentation of the EU Single Market while fostering resilience and reducing dependence on global supply chains that were severely interrupted during the pandemic for European businesses. Yet in the absence of an EU-wide solution, some EU countries already established their own human rights supply chain laws, the most recent one being Germany's Supply Chain Duty of Care Act. This law was preceded by the French Vigilance Law and the Dutch Child Labour Due Diligence Act. Separately, an NGO alliance has called in France for an investigation of four multinational clothing manufacturers and other entities, accusing them of "concealed forced labour" and "crimes against humanity" in the production of the goods.
These developments in Germany, France and the Netherlands, Belgium's top three trade partners, will also have a significant impact on Belgian businesses. Therefore, Belgium did not wait long to follow suit by introducing a Vigilance Proposal on 2 April 2021, which aims at establishing the "principle of corporate responsibility to respect human rights, labour rights and the environment as well as mandatory due diligence obligations for all companies established or active in Belgium, with respect to their entire value chain". The proposed bill, which foresees sanctions and collective legal redress by victims, is the first legislative proposal in Belgium linking business conduct to human rights.
The Belgian Chamber of Representatives held a hearing on the Vigilance Proposal on 22 September 2021, where the input of various stakeholders was solicited. This week, the Brussels-based policy institute European Foundation for Democracy also organised a workshop with different stakeholders (companies, NGOs, academics, experts and business organisations) to evaluate the intricacies of the subject matter and the possible effects of these new legislative developments on Belgian companies.
The workshop highlighted that all Belgian mainstream political parties, 60 Belgian companies, all trade unions, as well as many business organisations and NGOs expressed their resolve to stop modern-day slavery and forced labour while indicating their willingness to take rapid action on the issue. However, some political parties and the Federation of Belgian Enterprises (FEB) appear to have reservations regarding the Belgian Vigilance Proposal, especially when it comes to a level playing field and legal certainty.
In any event, the proposed legislation in Belgium is seen as a provisional formula. Most of the stakeholders, including those who support the proposed legislation in Belgium, are of the view that an EU-level legislation should be implemented as soon as possible, making it possible for all EU countries to act together on this crucial matter. Forced labour and modern slavery cannot be tolerated any longer in the 21st century. Of course, these new rules will have consequences for companies in Belgium, the EU and beyond. Therefore, it is important to manage the process well without compromising EU values and putting EU companies at a disadvantage.
The original article is available here: https://www.theparliamentmagazine.eu/news/article/should-belgium-go-its-own-way-to-protect-its-supply-chains?fbclid=IwAR1YbYj4gMu3NT02_Af-s0G-Vg69pARajV5YUL4r1Mel6xpYXI6_0bvSV1U